Who We Are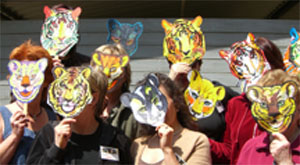 Animazonia's Board of Directors and long-time volunteers encompass a wide spectrum of people who have extensive experience with animals and organizations.
Apprenticeships with exotic animal handlers, rescuing and rehabilitating reptiles and birds of prey, and breeding and showing rare breeds of dogs (DogStar Kennels) have given us the background needed to provide exceptional care to these rescued animals. We continue to study with various animal welfare and development organizations. We focus on nutritional support and health care in addition to different forms of enrichment designed to provide stimulation for the animals.
Our core group devote their free time and creative energies to the ongoing work of Animazonia. Every volunteer including the BOD plays an integral part in the operation of Animazonia. No money is paid in salaries or honorarium, which allows us to channel almost 80% of all contributions to directly benefit the animals.
Everyone has full-time careers in addition to our work at Animazonia. We are paralegals, musicians, writers, business owners, therapists and artists. For 13 years, from 1987 until 2000, the facility and animals were supported entirely by monies from the original founding members.
As Animazonia grew, supporters wanted a way to contribute financially. In 2000, we became a non-profit 501(c)(3) organization, which made donating beneficial for all.
Our mission is to provide a safe, permanent and healthy home for big cats rescued from threatening conditions in captivity or displaced from the wild. Our educational programs build public understanding of big cats and their natural place in our world.