Tribute to the Founder:
Charles Thompson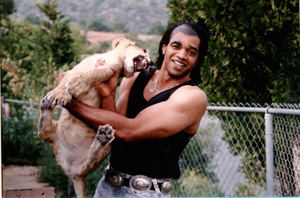 "The plants heal the mind and body, the animals teach perception and adaptation to the forces of Nature." – Charles Thompson
Heart means the very core of one's being, the center, without which there is nothing whatever. Charles's heart is the nucleus of the whole of Animazonia. It's difficult to do a sketch of who Charles really was; those stories rest in the hearts of those who knew him best. For those who may have not had the opportunity to meet Charles, let me describe why he was important for so many animals and people alike.
Charles had an enormous amount of energy that was filled with deep respect and understanding for not only people but also animals. He knew them as unique forms and spirits to be treasured as creative expressions of nature. As creative expressions of nature, we all have dreams and it's through creativity that we all speak to each other of our dreams. He understood that it is in the understanding of each other's dreams that there is hope for a positive future for a civilization that will preserve nature's creations of minerals, plants, animals and people, without which we cannot survive.
Everyone always felt his kindness and understanding flow to and through them. We know he would be proud that the dream of AWF that he inspired continues to live through the unselfish support of everyone whose own heart has found its way to Animazonia.
– Sanda Thompson